Collaborations
<![if !vml]>
<![endif]>
The CENTRE FOR INDUSTRIAL ECOLOGY (CIE) at the University of Coimbra is a research group in the multi-disciplinary field of Industrial Ecology. The CIE develops and applies tools to enhance the sustainability of products and systems supported by life-cycle thinking.
The CIE is actively involved in the Energy for Sustainability Initiative at the University of Coimbra and is part of ADAI-LAETA (Associated Laboratory for Energy, Transports and Aeronautics).
The CIE promotes scientific research, development and innovation to support industry, public authorities, organizations, and consumers towards sustainable production and consumption. The CIE takes a holistic and systematic approach to the analysis of sustainable systems by exploring trade-offs and synergies between economy, environment and society.
The CIE has assembled a multidisciplinary team of faculty, researchers, doctoral/Master's candidates, and visiting scholars. Research is carried out in collaboration with other Portuguese institutions and with international partners mainly in Europe, the United States and Latin America.
The CIE team has experience in both research and technical projects in the field of Industrial Ecology and provides expertise in:
•    Life-cycle management
•    Life-cycle sustainability assessment (LCSA)
•    Environmental life-cycle assessment (LCA), Social LCA, and Life-Cycle Costing (LCC)
•    Dynamic LCA, multi-objective optimization, and other extended life-cycle approaches
•    Carbon, water, and environmental footprints
•    Eco-design
•    Urban metabolism
Our expertise is applied in the following areas:
•    Energy | renewables (bio-energy, bio-fuels, solar, and others), natural gas, electricity
•    Transportation | sustainable mobility, vehicle components and systems (electric vehicles, trains, fleet analysis, batteries), power trains
•    Buildings and Sustainable Architecture | building components, pre-fabricated architecture, sustainable construction and retro-fit, thermal insulation, sustainable urban development
•    Agri-food and Forestry | fruits, vegetables, vegetable oils, animal-derived products, sustainable diets, wood-based materials, land-use change
•    Waste Management | waste cooking oil, beef tallow, demilitarization, anaerobic digestion, building waste management
•    Packaging
The CIE provides the following services:
•    LCA studies and critical reviews (ISO 14040/44)
•    Environmental Product Declarations (EDPs), including DAPHabitat
•    Product Carbon Footprint (PAS 2050, GHG Protocol, ISO 14067)
•    Assessment of sustainability criteria for bio-fuels
•    Sustainability assessment of buildings
•    Development of eco-design tools (improvement of resource and energy efficiency, and waste minimization)
•    Training and scientific meetings
O CENTRO PARA A ECOLOGIA INDUSTRIAL (CIE) na Universidade de Coimbra é um grupo de investigação na área multidisciplinar da Ecologia Industrial. A investigação do CIE visa promover a sustentabilidade de produtos e sistemas através do desenvolvimento e aplicação de abordagens de ciclo de vida.
O CIE tem um forte envolvimento na Iniciativa Energia para a Sustentabilidade da Universidade de Coimbra e faz parte da ADAI-LAETA (Associação para o Desenvolvimento da Aerodinâmica Industrial – Laboratório Associado em Energia, Transportes e Aerodinâmica).
O CIE reúne uma equipa multidisciplinar de docentes, investigadores, doutorandos, mestrandos e investigadores visitantes. A investigação é realizada em colaboração com outras instituições portuguesas e parceiros internacionais, principalmente na Europa, Estados Unidos e América Latina.
A equipa do CIE tem experiência em projetos técnicos e de investigação na área de Ecologia Industrial, nomeadamente em:
•     Gestão do Ciclo de Vida
•     Avaliação da Sustentabilidade de Ciclo de Vida
•     Avaliação Ambiental de Ciclo de Vida (ACV), Avaliação Social de Ciclo de Vida, Avaliação Económica de Ciclo de Vida
•     ACV dinâmica, otimização multiobjectivo, e outras abordagens de ciclo de vida
•     Pegada de carbono, pegada da água e pegada ambiental
•     Eco-design
•     Metabolismo urbano
Aplicações:
•     Energia | renováveis (bioenergia, biocombustíveis, solar e outras), gás natural, eletricidade
•     Transportes | mobilidade sustentável, sistemas de veículos e componentes automóveis (veículos elétricos, transporte ferroviário, análise de frotas, baterias)
•     Edifícios e Arquitetura Sustentável | componentes de edifícios, arquitetura pré-fabricada, construção e remodelação sustentável, isolamento térmico, desenvolvimento urbano sustentável
•     Agro-indústria e Florestas | frutas, vegetais, óleos vegetais, produtos de origem animal, dietas sustentáveis, produtos de madeira, alteração de uso dos solos
•     Gestão de Resíduos | óleos alimentares usados, gordura animal, desmilitarização, digestão anaeróbia, gestão de resíduos de construção e demolição
•     Embalagens
Serviços:
•     Estudos de ACV e revisões críticas (ISO 14040/44)
•     Elaboração de Declarações Ambientais de Produto (DAP), incluindo DAPHabitat
•     Avaliação da Pegada de Carbono do Produto (PAS 2050, GHG Protocol, ISO 14067)
•     Avaliação de critérios de sustentabilidade de biocombustíveis
•     Avaliação da sustentabilidade de edifícios
•     Desenvolvimento de ferramentas de eco-design
•     Formação e organização de encontros científicos
NEWS
LECTURE
24 January 2017, 2 pm
Elsa Olivetti, from the Materials Science and Engineering Department at MIT, will give a talk on "Environmental Assessment of Recycling and Beneficial use of Industrial Waste".
Local: Amphitheater II - Mechanical Engineering Department - University of Coimbra (Polo II campus).
Carla Caldeira, SES PhD student at University of Coimbra, under the MIT Portugal Program, will present her PhD thesis entitled "OPTIMIZATION OF FEEDSTOCK BLENDS TO IMPROVE BIODIESEL COST EFFECTIVENESS AND MANAGE ENVIRONMENTAL IMPACTS" on 23rd January 2017, 14:30, at the University of Coimbra (Sala dos Capelos).
Prof. Fausto Freire and Pedro Marques from CIE and PhD visiting student Roberto Sartori (University of São Paulo, CENBIO - National Biomass Reference Center) visited Pinewells, a biomass pellets production plant on 13 January.
<![if !vml]>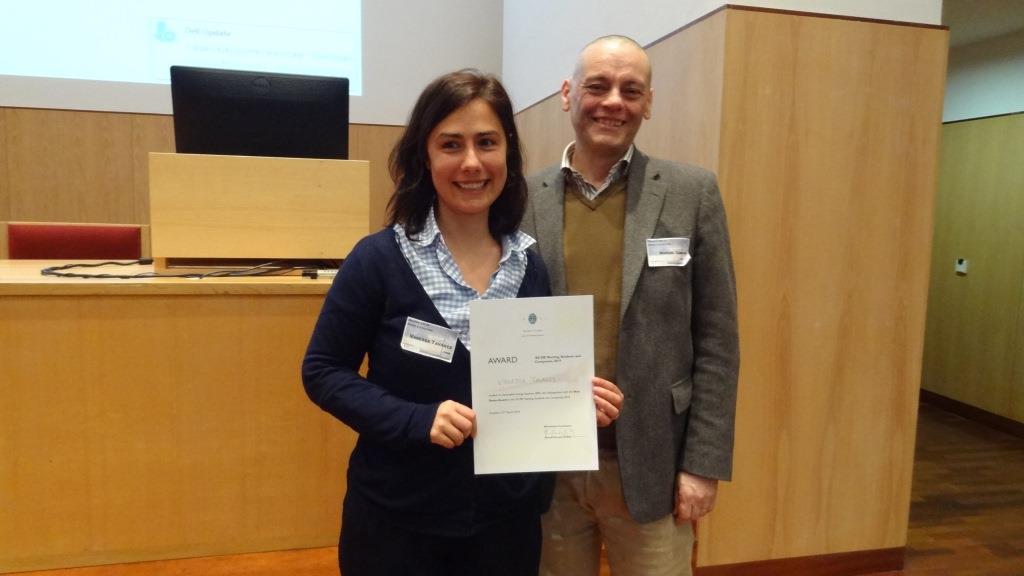 <![endif]>
<![if !vml]>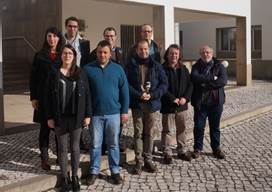 <![endif]>
Ronaldo Costa successfully defended his PhD thesis entitled "Quantificação das emissões de GEE para veículos de coleta de resíduos domiciliares abastecidos com GNV e diesel-B5 utilizando ACV", supervised by Prof. Dr. Carlos Santos (Pontifícia Universidade Católica do Rio Grande do Sul - PUCRS) and co-supervised by Prof. Dr. Marcus Seferin (PUCRS) and Prof. Dr. Fausto Freire (UC), on November 30, at PUCRS. Ronaldo Costa did part of the PhD Sandwich Internship at CIE-UC from September 2013 to August 2014.
LECTURE
5 December, 2 pm
Eng.º Jaime Braga from the Portuguese Association of Biofuel Producers (APPB) will give a talk on "A Estratégia Nacional para a Energia, para os Transportes e o seu Quadro Político e Regulamentar no âmbito da União Europeia".
Local: Auditorium of the Mechanical Engineering Department - University of Coimbra (Polo II campus)
CALL FOR PAPERS
Fausto Freire, João Malça, Érica Castanheira and Carla Rodrigues are organizing the Special Session "Life-cycle assessment (LCA) and management (LCM)" in the scope of the 3rd Energy for Sustainability International Conference (EfS2017) that will be held in Funchal, Madeira Island (Portugal), on February 8-10 2017.
For more details, please check the conference website.
Fausto Freire was invited to give a talk on "Perspetiva de Ciclo de Vida" in the 7th Sustainability Talks organized by Academia VLM and taking place in Aveiro on October 11.
The Webinar "Resíduos, Dupla Contagem, Fraude e Fiscalização e Biocombustíveis Avançados", organized by ENMC, on 27 September, will have the participation of Fausto Freire on the subject "Avaliação de Ciclo de Vida das emissões de GEE de biodiesel produzido a partir de óleos virgens e usados". To attend the webinar, please register here.
Carla Caldeira presented the communication: Caldeira, C., Quinteiro, P., Castanheira, E.G., Boulay, A-M., Dias, A.C, Arroja, L., Freire, F. (2016) "Water footprint profile of virgin and waste cooking oils: assessing freshwater degradation and comparing the WSI and the AWARE methods to address scarcity impacts" at the SETAC Europe 22nd LCA Case Study Symposium, held on September 20-22 Montpellier, France.
Fausto Freire was invited to give a plenary lecture on "LCA and Eco-Design" in the V Congresso Brasileiro em Gestão do Ciclo de Vida, taking place in Fortaleza, Brazil, on September 19-22. He also presented the communication:
Garcia, R., Marques, P., Freire, F. (2016). Avaliação de ciclo de vida da geração de eletricidade em Portugal incluindo variabilidade temporal.
<![if !vml]>
<![endif]>
The kick-off meeting of the H2020 project UrbanWINS was held at Cremona, Italy, on July 7-8. Fausto Freire participated in the meeting as coordinator of the University of Coimbra team.
<![if !vml]>
<![endif]>
The Faculty of Science and Technology of the University of Coimbra (FCTUC) and the National Entity for Fuel Market (ENMC) signed a protocol of cooperation, on June 28. The protocol aims to exchange experiences and scientific and technical knowledge in biofuels.
In the scope of this protocol, ENMC and FCTUC organized the workshop "Desenvolvimento de Biocombustíveis mais Sustentáveis", to present the new European Directive 2015/1513 on Sustainable Biofuels and gather feedback from stakeholders regarding its implementation in Portugal.